Are you a professionals, restaurateur, wine merchant, sommelier or wine buyer?
Do you work for a works council?
Do you export or import?
In any case you will be looking for a wine offer dedicated to your needs and specificities in order to surprise your customers.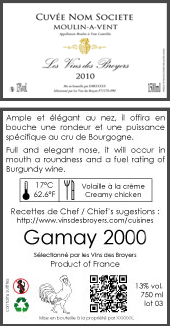 We can support you and take charge of:
• Shipping our wine in packaging adapted to your work methods and storage conditions,
• customizing the back label for promotional purposes or simply to meet legal requirements,
• customizing packaging for gift boxes etc.
We can help you find the best solutions.
Contact Jean-Michel directly by e-mail or phone: + 33 (0) 3 85 36 57 37